Elevation view is not showing all the cabinets
Elevation View Distance

Elevations have the option to reveal cabinets based their distance from the elevation line. This document will cover what an elevation line is and how to change its view distance.

Elevation Line
When creating a wall, an elevation line will be created (shown in the image below left as the red line). Whatever it touches will be shown in your elevation.


As a default, elevations will display anything within 16mm in front or behind the elevation. In the above right image, we can see the wall cabinet is within the 16mm of the Red line, whereas in the image below the wall cabinet is not within 16mm of the elevation line, so in the lower right we cannot see the wall cabinet as it is now too far from the elevation line.


Format Elevation
In Plan view, Elevation Items have a format page. To access this page you can right click the Elevation Item and select Format Elevation.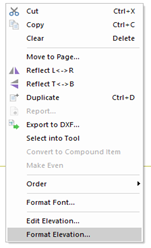 NOTE: In Elevation View you will need to right click in the blank space of the elevation to get the similar menu.

Once selected, a popup of the Elevation Settings Will appear. Inside of this popup select the style menu option.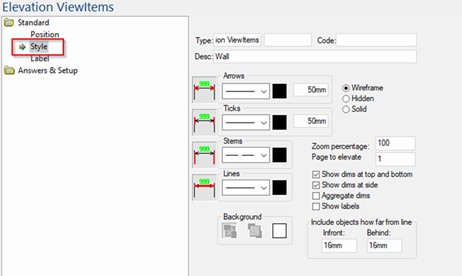 View Distance Use

In the Style area there will be two boxes in an 'Include objects how far from the line' group box. One labelled Infront and one Behind, These control the maximum distance between the elevation line and a cabinet before it will be left out of the elevation.


The image below is a visual representation of the Infront and Behind Values.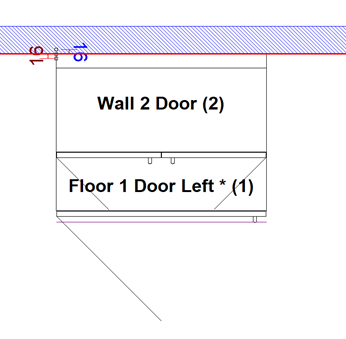 Any cabinet that sits between these lines will show in our elevation. In this example, the Wall 2 Door cabinet will not show. To make it show, we will have to increase the Infront value to the Wall 2 Door cabinet.

To complete our example the Infront value will need to be set to a minimum of 50mm, as our wall cabinet sits 50mm off the wall. (As long as the Infront value reaches somewhere inside the cabinet from the wall it will show in the elevation)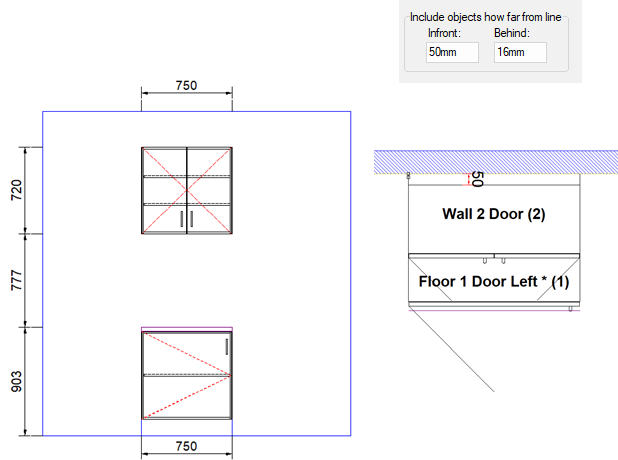 NOTE: A typical cabinet that can appear with this problem at the start is Tall Fillers, and sometimes Wall Fillers, because without the lower parts they are just vertical pieces a long distance away from the wall, typically 580mm and 300mm respectively.

TIP: Click the attachment to download this HowTo to your desktop as a .pdf

Related Articles

Elevation View Styles

Elevation View Styles One of the new options in CabMaster v11.0 is the ability to change Elevation View to show cabinets in wireframe, hidden or solid view. As shown above, go to the View menu and press the Elevation button to change to Elevation ...

Customising a cabinet in CabMaster Software

Customise a Cabinet Cabinets can be customised before or after they are placed on the drawing. For comprehensive discussions see also the following: CabMasterPro Help topics [F1] : Topic Discusses Cabinet Properties Different ways to select cabinets ...

Importing Data into CabMaster Software

Attached is a simple Excel file that could be used to try this. Importing Data into CabMaster Products CabMaster and its associated products have the ability to import a wide variety data directly to the program, in this document we will outline how ...

Understanding Universal Cabinets

Universal Cabinets The Universal cabinets have been designed as highly customisable, versatile options within CabMaster. A single Universal cabinet can be used to create something as large as a full-sized wardrobe, or something as small as a standard ...

What's New - CabMaster V11 Build 20 Release Update

Attached is a document that details what is new in V11