Attached is a simple Excel file that could be used to try this.

Importing Data into CabMaster Products

CabMaster and its associated products have the ability to import a wide variety data directly to the program, in this document we will outline how to import settings for cabinets.
How to Import

To start with, there are 2 different items to import.

1, Global settings, such as Job No, Customer name & address etc.
These items are common for the entire job and there values are found under Drawing Properties.
2, These are Cabinet / Parts and their associated properties. This is where you select a Floor 1 Door Cabinet and you can specify such things as its width, height and materials etc. These items are all cabinet / part specific.

Both Global and Cabinet properties are imported differently from within the import file but this will be discussed further later it this HowTo.

When preparing to import a value, you first need to find its field, in this case we would like to import the global "Address" field found under Drawing Properties / "My Setup".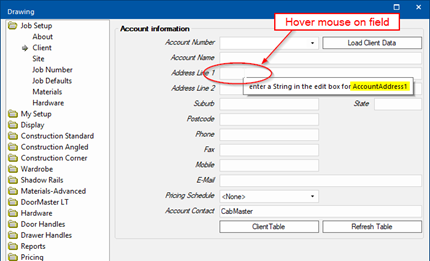 Once found, hover the mouse over the field and a popup will appear below, this tells you the variable we will need.
In this case "AccountAddress1" is the variable we are after (the variable will always follow 'for'). This can be done for as many Global values as required.
For this example we will take the "Floor 1 Door".

This is the name of the cabinet we will import, it is very import to get this name correct.